About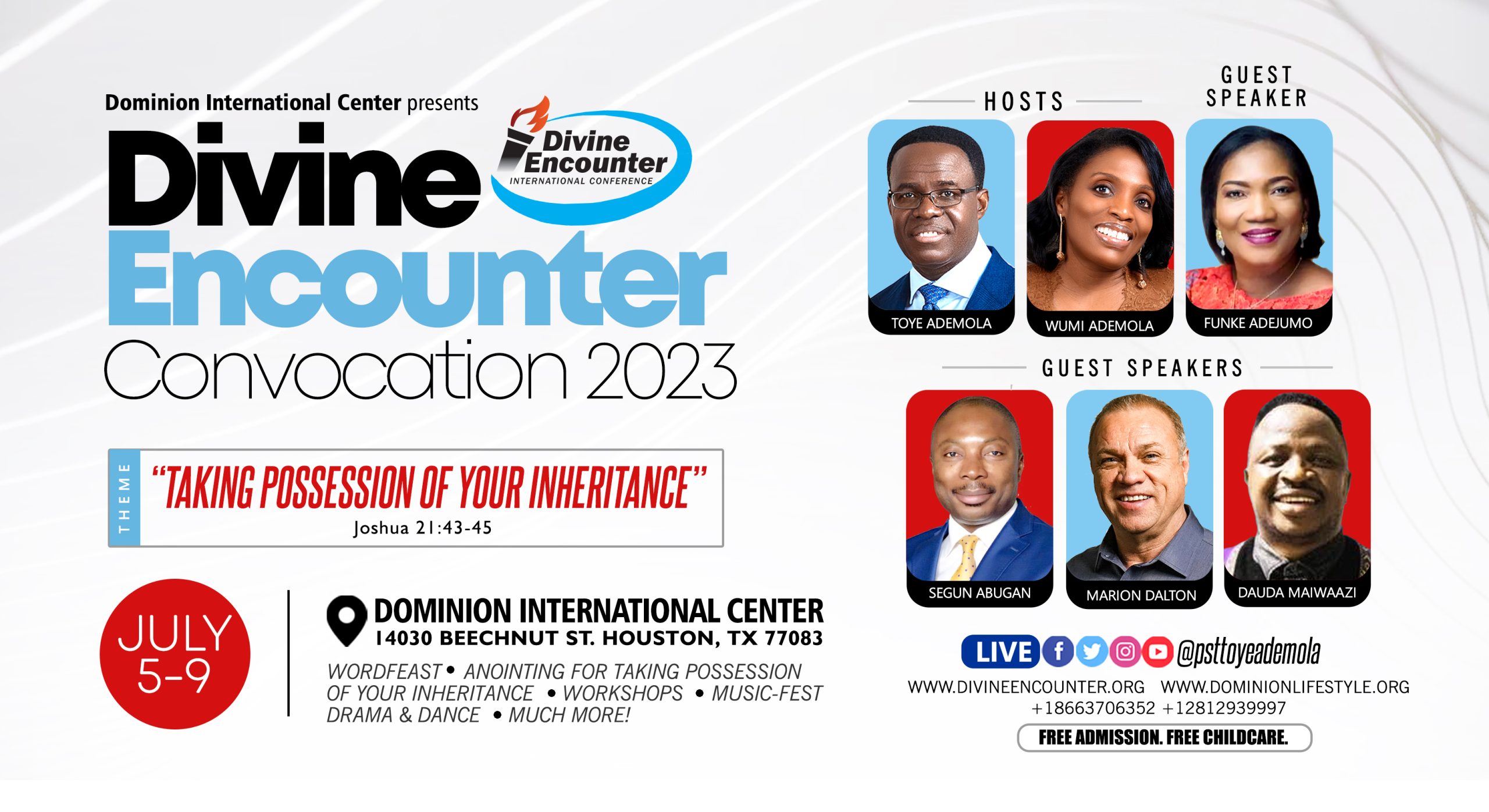 Divine Encounter Convocation 2023
Theme: TAKING POSSESION OF YOUR INHERITANCE! | Joshua 21:43-45
Welcome to the Divine Encounter 2023, where the power of faith and the spirit of determination collide to bring you an electrifying event like no other! This year, we unleash the theme that will ignite your soul: "Taking Possession of Your Inheritance!"
Prepare to embark on a journey of divine revelation, as we gather at the vibrant city of Houston, Texas from July 5th to 9th, 2023. The transformative experience awaits you at 14030 Beechnut St., where the atmosphere will be charged with anointed ministers, pastors Toye & Wumi Ademola, and a multitude of passionate souls hungry for breakthrough.
Don't miss this life-changing opportunity, because admission is not just free, but your inheritance is priceless! We believe in removing all barriers, ensuring that everyone has a chance to attend. That's why we provide free childcare, allowing you to fully immerse yourself in the life-altering sessions, workshops, and impartations that await you.
Prepare to be captivated by an array of captivating expressions as we blend music, drama, dance, and so much more! With an unparalleled lineup of talented artists and performers, every moment will be drenched in the spirit of worship and celebration.
For those unable to join us physically in Houston, fear not! Divine Encounter 2023 extends its reach across the globe. Tune in to our live broadcasts online or connect with us through our dynamic social media platforms. No matter where you are, we guarantee that the fire of transformation will reach you, igniting your spirit and propelling you into your destiny.
Mark your calendars, set your intentions, and prepare to seize what is rightfully yours at Divine Encounter 2023. Unleash the power within, claim your inheritance, and embark on a journey that will change your life forever. The time is now, the place is here, and your destiny awaits!
Join us at Divine Encounter 2023 – your inheritance is calling!